AWR Technology - MOTORS
---
STEPPER MOTOR ASSEMBLIES STEP1,2,5
Small stepper motors supplied with the SYSTEMS 2,4,5. Full torque of 100Ncm is obtained with a gearbox of 125:1 ratio.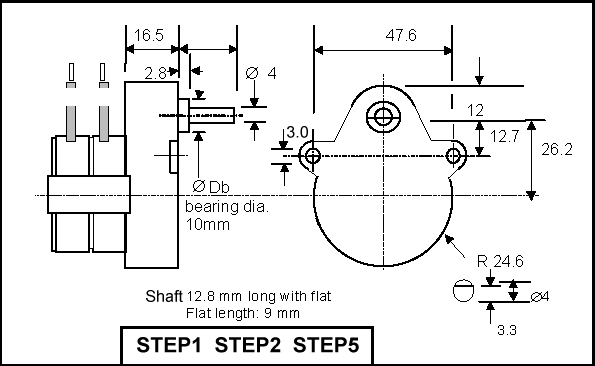 Ideas for motor brackets.
---
STEPPER MOTOR ASSEMBLY STEP3
Heavy duty gearboxes and larger motors give 200Ncm of torque with 50:1 ratio and upwards for STEP3 motors supplied with SYSTEM5 or FRGEN. The gearbox is also used on MOTOR/G for Microstepping when a large amount of torque is required. The gearbox has all metal gears and is torque limited to 400Ncm.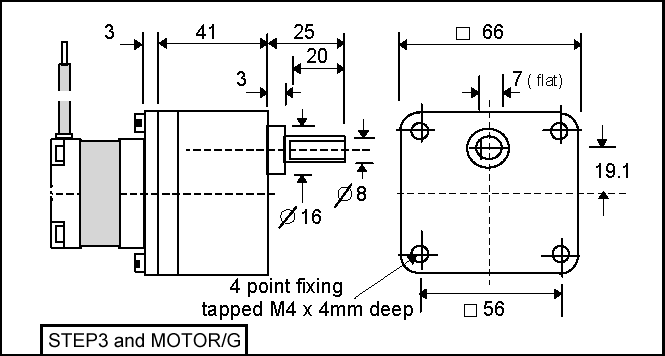 Ideas for motor brackets.
---
STEPPER MOTOR FOR MICROSTEPPING
Large motors which can be connected DIRECTLY to slow motion axes or with small ratio gear reduction to be used in the Microstepping system. The large motor in the picture is MOTOR/400. The telescope reduction ratio needs to be in the range 200:1 to 1200:1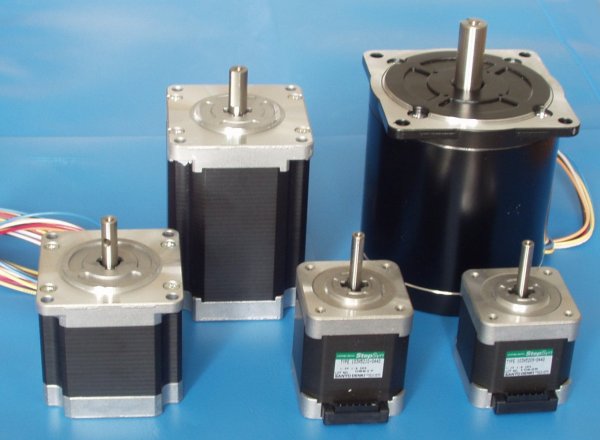 TYPE
"L"
(mm)
Mounting
ctrs (mm)
Useful
torque
(Ncm)
Output
shaft (mm)
Weight
(kg)
Max Phase
current (A)
Notes
MOTOR/35
48
31
25
5.00
0.40
1.2
Needs gears
MOTOR/85
52
47.2
60
6.35
0.7
1
Needs gears
MOTOR/210
85
50
130
8.00
1.3
2
,
MOTOR/G
140
56
200
8.00
1.8
1.2
Has 5:1 gearbox
MOTOR/400
83
70
300
12.00
2.6
4
full spec dwg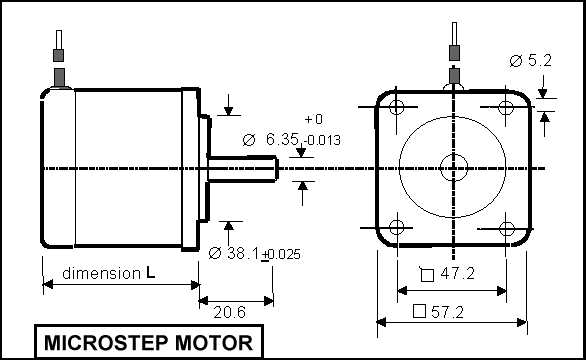 ---
MOTOR BRACKETS
Examples of motor brackets for fixing in various positions. These diagrams were specific solutions for one telescope. It is left to the user to work out how to adapt these for their own telescope. The worm wheel in the DEC examples was supplied by Beacon Hill Telescopes.
The function of the bracket is to hold the motor rigidly in position so that all the torque it develops is transferred to rotating the telescope axis rather than twisting up the metal in the bracket. For this reason the metal of the brackets must be substantial. We use 5mm thick Aluminium material as a minimum.
(Download formats: PDF files are about 250K, JPG are much smaller.)
Mounting an RA motor to a part of the equatorial head of a POLAREX UNITRON refractor. JPG image - PDF file
Mounting the DEC worm housing and motor onto DEC fixed parts on the equatorial head of a POLAREX UNITRON refractor. JPG image - PDF file
Mounting motors onto ASTRO PROMOTIONS (Rob Miller) slow motion brackets

Click here for GOTO systems driving these telescopes
The original worm brackets went through several stages of evolution. We have picked out the SKELETON VERSION which had synchronous motors fitted (in a large can) and the SOLID VERSION which has a shaft both ends. We can drive both of these types. The skeleton version is more involved as it requires a shaft extension, bearing and thrust washer to be added. One concern has been extra weight added as there is one large adjust screw to mesh the worm with the wheel but it is possible to add two extra grub screws to secure this once it has been adjusted. So we are using a smaller motor weighing 0.7kg and pulley drive reduction about 3:1 to give the required huge torque!

Look at the drawings of the original brackets and the sketch of how our motor fits on.
PERFORMANCES AND PRICES
MICROSTEPPING MOTOR ASSEMBLIES (PRICES PER AXIS)
MOUNT
MOTOR
MECHANICAL
LINKAGE
AVAILABLE
TORQUE
OVERALL
REDUCTION
MAX SLEW
deg/s
PRICE
Beacon Hill
MOTOR/210
2:1 Pulley set and bracket.
Motor folded over worm.
PHOTO
3Nm
574 or
720
0.7
£220
Beacon Hill
MOTOR/210
Oldham coupling, IN-LINE motor
and bracket. PHOTO
1.5Nm
287 or
360
2
£170
Beacon Hill,
Heritage upgrades
MOTOR/210
2:1 Pulley set.
Motor folded over worm.
Sprung assembly into the wormwheel in range 100 to 500 Newtons
3Nm
574 to
1200
0.5 to 0.7
£400
Fullerscopes MK IV
Pictures:1 2 3
MOTOR/85
3:1 Pulley set and bracket
AWR fitting
1.8Nm
974
0.6
£155
VIXEN ATLUX conversion

MOTOR/85
Gears, brackets and motor carrier plates
AWR fitting. DEC housing mod difficult.
1.8Nm
974
0.6
RA £105
DEC £230
EQ5 / GP-DX / GPE
MOTOR/32
58/16 Gear set and bracket
User fitting
0.8Nm
522
2
£100
HEQ5
MOTOR/32
72/12 Gear set and bracket
Motors fit outside casing.
User fitting
1.2Nm
540
2
£220
(complete assy)
EQ6
conversion
MOTOR/32
57/12 Gear set and brackets
New front panel.
User fitting
1.5Nm
846
1.8
£102.50
ALTER D6
conversion
MOTOR/32
Existing, rearranged gears
User fitting
2.5Nm
2800
0.5
£60
LX200
conversion
MOTOR/32
58/16 Gear set, bracket
New front panel.
Strip down at AWR
0.8Nm
652
2.4
(8 inch)
£115
ASTRO PROMOTIONS conversion 1 2 3
MOTOR/32
5:1 Gearbox, bracket,
OLDHAM COUPLING
1.2Nm
1000?
1.6
£165
---
HOME PAGE
© 2000 - 2015 AWR Technology